Dining out, ordering in, and everything in between. It's no secret that many people in Europe enjoy a meal prepared by someone else.

According to a new NDP food service industry report, it is estimated that one in five meals eaten in European homes in 2023 will come from restaurants. And back in 2018, 18% of meals were eaten in restaurants.

In both scenarios, all these consumers are relying on someone else to prepare food hygienically and safely. And considering that before a meal ends up in front of a diner, the ingredients have usually passed through multiple places and been handled by multiple people. So, who guarantees that processes live up to the standards, to ensure it all happens safely?
Unfortunately, according to the World Health Organization each year over 600 million people become sick and 420 000 people pass away from consuming contaminated food. Annually on the 7th of June, the WHO hosts World Food Safety Day. This year's theme draws attention to the importance of food standards.

Source: NVWA

To raise more awareness to this issue, senior product expert Wouter Goudsbloem and press officer Pascale Schreurs, from the Dutch Food and Consumer Product Safety Authority (NVWA) give us insight into what the common pitfalls are that are found in restaurants and what they can do to improve their businesses to create safer and healthier spaces for diners.

Wouter started in 2014 as a restaurant inspector for the NVWA and is now responsible for a team of inspectors who perform the inspections in The Netherlands at various places selling food and meals such as restaurants, bakeries, and cafés.

To start, Wouter explained which criteria they look at when inspecting a restaurant.  "Every catering inspection has a number of key points that mainly concern hygiene. Think of pest control, the temperatures of perishable food items, whether a restaurant is adhering to the food safety plan set up by the branch, and whether the information of allergens is correctly displayed to consumers," he explains.
"When inspecting the hygiene, wherever food is stored, prepared or traded, it should be hygienic. So we check the spaces and equipment to make sure it is hygienic enough" he continues.
Some examples he mentions are:
There should be no mold in the cold storage.
No cross-contamination should be possible. For instance, never defrost raw chicken above salad leaves.
There should be no paint peeling off a wall above a stove, where it has the potential of dropping into cooking food.
Rats and mice shouldn't be able to get into the kitchen through cracks and holes in the building.
Temperatures shouldn't be too warm. And for example, cooked soup needs to be cooled to less than 7 degrees Celsius within 5 hours.

Source: NVWA

Another example both Wouter and Pascale give is correctly informing consumers about allergens in their products. According to a study conducted by the Dutch Food and Consumer Product Safety Authority 60% of almost 13000 inspected Dutch companies in retail, craft, and catering do not properly inform customers about which allergens are used in their foods or dishes. These were risk-oriented inspections, however, NVWA is always strictly checking how consumers are informed about allergens.

Allergens in food can cause allergic reactions and for some people, this can have serious impacts or even be life-threatening. Some common allergens are nuts, soya, and sesame.  That is why it is extremely important that everyone selling food accurately informs consumers about the allergens found in food.

According to Wouter one of the most common pitfalls is that many restaurant owners are not fully aware of all the health and hygiene policies that are applicable to their business. Or in a lot of cases, the owner knows, but the employees doing the day-to-day procedures do not.

But why is it so important that these mistakes are avoided? "We want everyone to be able to buy and use food everywhere without worries, that trust should be there," he says.
So how can restaurants improve and make sure their businesses are hygienic and safe for everyone?
After talking to Wouter and Pascale, in summary that would be:
Make sure to adhere to all the hygiene protocols set up for your specific branch.
Keep coaching and managing employees – keep everyone informed and updated on new policies, hold coaching and information sessions, and train everyone.
Make sure there is a good system in place to ensure these policies are part of the workflow. Even during busier periods.
Simplify certain procedures and reduce working steps that allow room for unnecessary contamination risks when you have fewer people working.
Think of buying pre-prepared food items and elements that go into dishes.
Be proactive instead of reactive – in the case of mice and rats you can take preventative measures to ensure they don't enter the space.
Avoid company blindness by keeping the conversation open among employees and holding each other accountable for food safety.
Make food safety non-negotiable.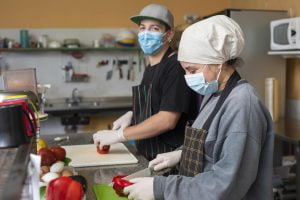 "Be critical of yourself, a lot of the processes will happen automatically, but it is important to know that protocols change, and some practices are not the best ones, so be critical" Wouter answers when we ask him about advice specifically for restaurant owners and employees who have been working in this field for a longer time.

And when it comes to newer restaurant owners, both Wouter and Pascale suggest to prepare well before starting your business. Make sure you are up to date on all new rules. And join the trade association associated with your business type so you are always up to date with changes, policies, and rules.

Guaranteeing the health and safety of consumers is the responsibility of everyone in the food service industry, so where can you still improve? Supporting commercial kitchens in keeping food safe by creating high-quality kitchen equipment with built-in features that improve processes has a high priority at Hoshizaki.

Maintaining stable and uniform temperatures is a key factor for all refrigeration products by Hoshizaki. The intelligent air distribution systems keep the temperatures stable, even if the fridge or freezer doors are being opened frequently. This guarantees correct temperature levels and even helps with the ingredient's shelf life.

But it is also important to guarantee the safety of products that are directly consumed by customers such as ice cubes in drinks. Hoshizaki supports restaurants and bars by offering ice makers that are HACCP certified. This means the ice machines and dispensers produce certified food-grade ice that can be used in any HACCP-compliant food and beverage business.

For more information about this year's World Food Safety Day, you can download the publication here: https://www.who.int/publications/i/item/WHO-HEP-NFS-AFS-2023.6