Long are the days where a standard cube of ice meets the mark, especially in the bartending world where ice has the power to make a drink authentic, spectacular, and superior in quality… but only when using the right ice. But with such a wide variety of ice to choose from, it can be hard to know where to being, and what type of ice is right
In this ice match-making blog, Hoshizaki talk us through the different ice types on offer, and what venues/drinks they are best suited for.
Cubed ice:
Best for: Premium cocktails and long drinks
Premium spirits and ingredients simply ask to be paired with nothing less than ice cube perfection. Hoshizaki cubes are extremely compact, dry, tasteless, consistently identical and slowly melting, allowing just the right amount of dilution – a combination of everything a bartender requires when it comes to aesthetics, taste and functionality of ice.
Hoshizaki cuber range: https://hoshizaki-europe.com/cubers/?lang=en_UK
Flaked ice:
Best for: Mojitos and ice buckets
The light texture of flaked ice has a quick cooling effect, creating an environment of uniform temperatures making it especially ideal for food displays. The shape of this ice is also perfect for champagne buckets as the bottle can be slotted into the ice, which can freely move around it.
Free of impurities and preventing freezer burn, Hoshizaki flakers are designed to prevent bacterial contamination too.
Hoshizaki flaker range: http://hoshizaki-europe.com/portfolio/flakers/?lang=en_UK
Nugget ice:
Best for: Cocktails and blended beverages
Nugget ice is often used to prepare cocktails, blended beverages and soft drinks because of the more malleable shape, quickness of cooling and dilution rate that these dry, individual ice nuggets offer.
Hoshizaki nugget range: http://hoshizaki-europe.com/portfolio/nugget-ice-makers/?lang=en_UK
Crescent edge ice: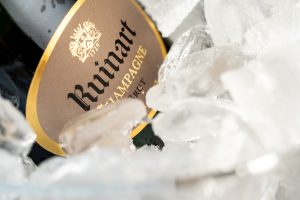 Best for: Nightclubs, large bars and stadiums
The unqiue shape of crescent edge ice allows for splash-free serving, making it a must for fast-selling establishments. Bartenders can even use this versatile ice for bottle display as the shape allows for easy slotting –  especially with Hoshizaki crescent edge ice which does not cluster whilst still being free of impurities.
Hoshizaki crescent edge range: http://hoshizaki-europe.com/portfolio/crescent-ice/?lang=en_UK
Special ice (ie. Big ball, heart, big cube):
Best for: High-end bars, hotels and mixologists.
Eye-catching ice is a must for bars and hotels that want to create showstopping cocktails. Within Hoshizaki's special ice maker range, you can find our signature ball ice, big cube, long cube, heart, star and cylinder.
These ice types are tailored for mixologists and cocktail bars that like to differentiate themselves and add to the full cocktail experience without eliminating the purpose of properly cooling the drink with minimal dilution.
Hoshizaki special ice maker range: https://hoshizaki-europe.com/portfolio/special-ice-makers/?lang=en_UK