The Hoshizaki Ice Maker Design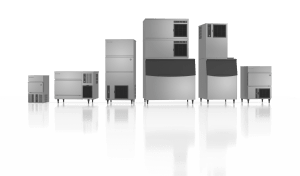 IM Cubers
Meeting even the strictest hygiene requirements, these true allrounders offer many application possibilities in segments including the foodservice and medical sector. But how does it work? A dedicated jet of freshwater is injected into each of the closed cells. Excess water leaves the closed cell through a set of outlets. The cell walls block the freezing water's expansion from all sides while reaching down to -30°C during the cubing process. Thanks to the automatic rinse cycles, impurities such as minerals, are eliminated from the water resulting in the purest ice possible while your machine is protected from calcification and mineral build-up.
Find more information about Hoshizaki IM Cubers here
FM Flake- and Nugget Ice Makers
                                                                                  The FM series has a worktime-based replacement system, which can be monitored with the intuitive control display for preventive maintenance.
Hoshizaki was the first to introduce an automated water circuit rinse cycle, to avoid harmful mineral residues from clogging the hydraulic system and maintaining top sanitary conditions. Hoshizaki Flake and Nugget ice makers use carbon graphite bushings instead of conventional ball bearings which allow the machine to work entirely without grease. Here, the absence of moving parts prevents wear and tear, while the water-lubricated bearings protect the system from unpleasant calcification and bacterial contamination.
Find more information about Hoshizaki FM Flakers here
Find more information about Hoshizaki FM Nugget Ice Makers here
KM Crescent Ice Makers
The double-sided evaporator in all KM machines is made of stainless steel – the best material for improved longevity, food safety, and cleaning without damaging to the machine.
Always focusing on operating convenience and food safety, the air filters are easily accessible from the front for routine cleaning. With intake and outflow positioned at the front, the KM is ideal for built-in installation opportunities.
Find more information about Hoshizaki KM Crescent Ice Makers here